Hi, everybody!
Thank you very much for your support to Touchclass.
As of May 13 (Mon), the Admin page was updated and please refer to the followings:
Thank you.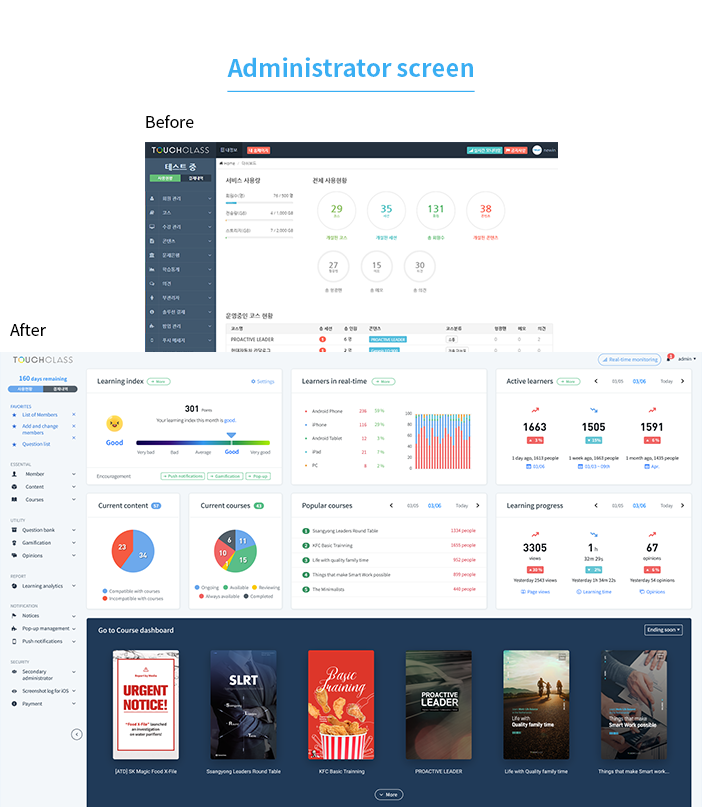 | New screen
Main Dashboard


①

You can see all the information from the Statistics menu at a glance.


②

Easy to see the current status of learning through learning index.

Course Dashboard : 

All the information on courses


①

To understand which group is more interested in the course based on learning progress / learning time / activity ranking by group.


② You can assume how learners are doing based on quiz/test/survey responses.

Group statistics




You can choose from 2 to 10 groups to compare.
| Improved UI/UX
Menu


Reclassify as Essential/Utility/Report/Notification/Security based on consistency of menu

Contents and Course Thumbnail View




Information displayed in List View only is now displayed in Thumbnail View as well

Split and merge tabs : 

Split or merge tabs for different situations




Example)


①

Split : Settings_Site information / Administrator information / System settings


②

Merge : Add or change members: Invite/ Join/ Change (Before: Individual invitation / Batch invitation / Individual sign up / Batch sign up / Group change)

Reduced unnecessary clicks




Example) Manage your learning_Learner sign up: Click Category of course or Individual course and you will be added to the list immediately